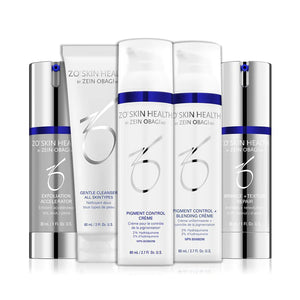 Description
ZO® SKIN HEALTH MULTI THERAPY HYDROQUINONE SYSTEM
An all-encompassing system formulated to help treat hyperpigmentation, severe texture damage, sun damage and general skin health restoration.
BENEFITS
Gradual skin bleaching of hyperpigmented skin conditions – chloasma, melasma, freckles and other unwanted hyperpigmentation

Exfoliates dead skin cells that dull or clog skin and helping to increase cell regeneration

Hastens improvement of texture, acne, sun damage, aging skin

Enhances production of collagen and hyaluronic acid
ADVANCED INFORMATION
The ZO Hydroquinone Program Kit is highly potent bleaching solution that gradually lightens and inhibits hyperpigmentation by altering the natural processes that cause cell damage.
Specifically created to help even skin tone by slowing melanin production, it dramatically reduces the appearance of chloasma, melasma, freckles and sun damage.
Important notice: This product contains ingredients that are not recommended during pregnancy and breastfeeding.
NET WEIGHT
Gentle Cleanser

 - 60 mL / 2 Fl Oz.

Pigment Control Crème 2% HQ

 - 80 mL / 2.7 Fl Oz.

Pigment Control + Blending Crème 2% HQ

 - 80 mL / 2.7 Fl Oz.

Exfoliation Accelerator

 - 30 mL / 1 Fl. Oz.

Wrinkle + Texture Repair

 - 50 mL / 1 Fl. Oz.
Only use this kit after consulting a health care practitioner.