ENHANCE YOUR APPEARANCE WHILE PRESERVING YOUR NATURAL BEAUTY

We are North Shore's destination for minimally invasive, non-surgical cosmetic procedures in a modern physician directed clinic. Each treatment is formulated specifically for each client based on individual goals, sensitivities and skin texture.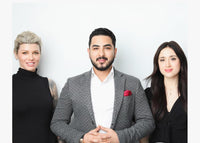 MD, MASC, FRCPC, ABIM, ABOM
A. Yashar Tashakkor is an Aesthetic & Obesity Medicine specialist with expertise in non-surgical, minimally invasive techniques for facial enhancement. He has a meticulous natural eye for beauty and always aims for long-lasting results with minimal downtime

His patient-centred practice ensures a tailored treatment plan custom fit for the individual to create an exceptional outcome
Learn more about Dr. T.
Leaders In

Aesthetic Medicine
Which of our most popular treatments are right for you?
Do your skin challenges include fine lines, thinning skin, dark circles or low lip volume?
Achieve natural results with Dermal Fillers
Are you struggling with dull skin, old acne scars, pigmentation or large pores?
Glow with our RF Microneedling and IPL PhotoFacial
Do you want comfortable hair removal treatments that can give you silky smooth skin faster?
Try our DIOLAZE Laser Hair Removal System
Upgrade Your Skin Care
With NEXX MD Skin Care
GET TO KNOW TO KNOW OUR BEAUTIFUL CLIENTS
My experience at Nexx MD was Great! Very friendly staff and beautiful space. They offered me tea while I waited for them to be ready for me and were super helpful and knowledgeable. All my questions had answers and what I loved is that they didn't push me to make any hasty decisions. I received Botox and talked about what other little procedures that I may be interested in.
Dr. Y and Bristol were absolutely amazing! I appreciate their warm personalities and professional approaches. They were honest with my facial structure and only suggested what I truly needed. My concerns and goals were heard, and am ecstatic with my results! I would highly recommend NexxMD to anyone considering cosmetic enhancements
Bristol is amazing! I have had a series of IPL treatments with her and, a Morpheus microneedling session! My skin has never looked better! She's very knowledgeable and makes you feel comfortable through the whole process. Also the clinic is perfection!
I am so thankful to have found nexx md. Dr. Tashakkor and Bristol are so great at what they do. They took the time to sit down and explain the procedures and give their professional opinions to ensure I was making an informed decision about my treatment plan. I am so thrilled with my results and my overall experience. Thank you to the entire team at nexx md! I can't wait to come back!!
VIEW ALL REVIEWS